What are Refractive Errors?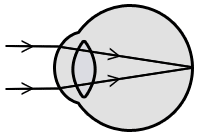 In a normal or emmetropic eye, the light rays falling upon it are brought to a sharp and clear focus onto the retina. When this mechanism is disturbed and the light rays are focused not onto the retina but in front or behind it, a refractive error is said to be present. This causes blurred vision. There are mainly two forms of refractive errors – myopia and hypermetropia. Astigmatism is a special type of refractive error that often co-exists with the above two forms, but sometimes may also occur alone. Presbyopia, sometimes termed old sightedness, sets in around the age of 40.
---
Myopia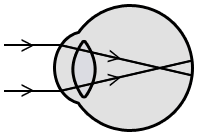 In myopia or near sightedness, light rays falling upon the eye are focused in front of the retina. Such patients have difficulty in seeing distant objects but have clear vision for near. They may squeeze their eyes in an attempt to achieve better distance vision. Many myopes may complain of headaches, more so in the evenings.
Causes of Myopia
Any factor that leads to a convergence of light rays in front of the retina, causes myopia. By far the commonest cause of myopia is an increase in the length of the eyeball. Sometimes, however, it may be due to an increase in the curvature of the cornea or an increase in the power of the lens.
---
Hypermetropia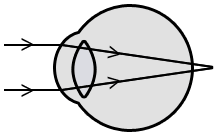 Hypermetropia is also termed far-sightedness. In this condition, light rays falling upon the eye, are brought to a focus behind the retina. Patients have difficulty in seeing near as well as distant objects. Patients with this refractive error often complain of headaches after long hours of near work. Squint may often co-exist in hypermetropic children.
Causes of Hypermetropia
Hypermetropic eyes are often smaller in size. This leads to the focusing of light rays behind the retina. Sometimes, decrease in power of the lens or a decrease in the curvature of the cornea may also cause hypermetropia.
---
Astigmatism
This is a special form of refractive error that occurs due to an asymmetry of the optical system about the optical axis. This means that the converging power of the eye is not the same in all meridia. Commonly, it occurs due to imperfections in the shape of the cornea that leads to different refractions in different meridia. Astigmatism is corrected with the help of cylindrical lenses, the optical powers of which vary at different angles. Depending upon whether the light rays are focused in front of, or behind the retina, astigmatism can be myopic, hypermetropic or mixed.
---
Presbyopia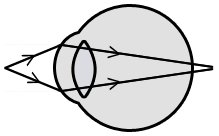 Presbyopia usually sets in around the age of forty. With age, the ability of the eye to focus on near objects gradually diminishes so that by this time, most people require near vision glasses. Following this, the glass power usually goes on increasing with age. The first symptom that most people notice is difficulty in reading fine print, particularly in dim light, eye-strain when reading for long periods, blur at near or momentarily blurred vision when transitioning between viewing distances.
Causes of Presbyopia
Similar to grey hair and wrinkles, presbyopia is caused by the natural course of aging. It may be due to a loss of power of the ciliary muscle that helps focus the lens, or due to a decrease in elasticity of the lens itself.
---
Treatment for Refractive Errors
Spectacles are the commonest method of correction of refractive errors. '+' numbers are used to correct hypermetropia and presbyopia, '-'  numbers for myopia and cylindrical lenses for astigmatism. Generally, uptill the age of 18-19yrs, the eyeball grows, and the number keeps changing. It is, therefore, advised that all patients below this age should have a periodic eye check-up to determine a change in refraction. It is particularly important for small children to wear glasses, or carelessness could lead to underdeveloped vision, often termed Amblyopia (lazy eye), in which case vision cannot be increased to 6/6 or 20/20 by any means.
Contact lenses are another popular mode of correction of refractive errors, particularly if spectacles are not desired. Patients above the age of 14-15yrs may opt for contacts. They also have the option of Refractive Surgery, popularly termed LASIK.